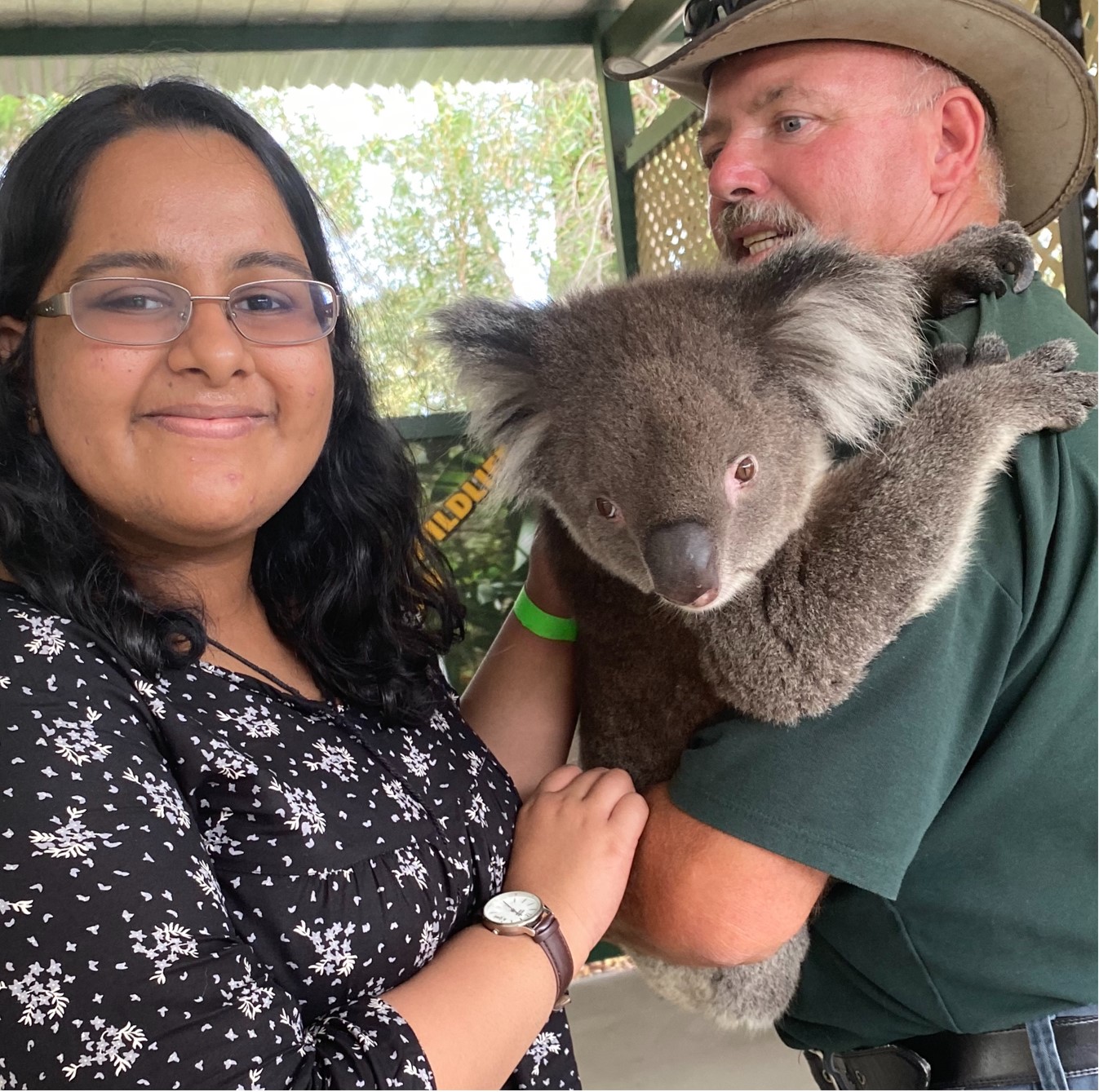 Nethra's close encounter with the Koala bear during her trip to Caversham wildlife park as part of the University's orientation program

Name: Nethra Baktha Maheshwar
Institution: Murdoch University, Western Australia
Course of study: Bachelor of Sciences in Vet Biology/Doctor of Veterinary Medicine

Nethra's passion and love for animals motivated her to study the Bachelor of Sciences in Vet Biology/Doctor of Veterinary Medicine at Murdoch University. She started her studies in Perth in early 2020, and returned back to Singapore to continue this program online due to Covid-19. We invited her for an interview to find out her learning journey and experiences in Australia, and how Murdoch has supported her learning at this while.
---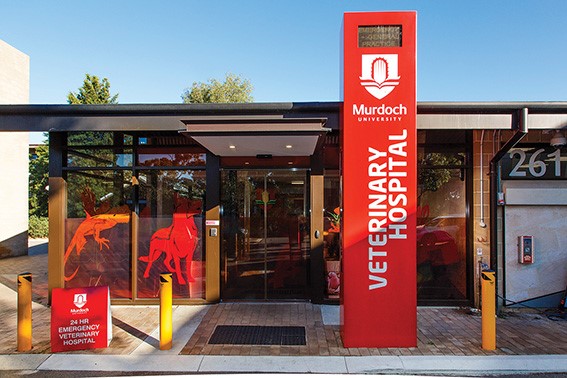 This is the Murdoch University's Veterinary Hospital where pets visiting the Small Animal General Practice will be under the care of very experienced veterinarians, with final year veterinary students observing and providing extra tender loving care to the animals.
What made you want to study the program and why this university?
I have wanted to be a vet ever since the age of four as I loved being around animals and always felt motivated and driven to help and care for them in any way I could. My passion and love for animals and their welfare brought me to Murdoch University.
What I truly enjoy about the Murdoch vet program are the weekly team projects and collaboration sessions with classmates. It has enabled me to open up and share my opinions with my peers but at the same time learn from them as well. Every idea is acknowledged and discussed upon which makes learning extremely fun. The discussions and presentations have also helped me to improve and further develop on some of the core veterinary skills needed in practice such as communication and teamwork. We also get introduced to real life scenarios and case studies in the earlier years of the course to adopt the investigative thinking approach. Hence, we start relating form and function to diseases from second year which builds understanding for clinical practice in fourth and fifth year.
I have only been on campus for a month due to covid-19 but I have had the opportunity to interact and make friends with people from all around the world. In my opinion, you are not just a student when you're at Murdoch university, you are also part of a family of likeminded, passionate individuals who aim to make a difference in the world which is what truly sets Murdoch university apart.
Throughout the veterinary degree, students can gain real-life experience in the University's suite of surgery and laboratory facilities including classes in anaesthesia, medical examinations, animal handling and surgery.
What is the support that the university has provided you in the midst of Covid-19?
Being off campus and studying online can be a very stressful experience but the staff at Murdoch university provided us with a lot of support and help which enabled a smooth transition to online learning.
Anatomy is a challenging subject to learn online as it is a highly practical based subject. However, as an off-campus student, I never felt like I was missing out on the practical sessions as I received a lot of recorded videos and pictures of animal dissections performed on campus and images of comparative animal anatomy which really helped me to consolidate my learning. We also have a virtual anatomy museum filled with radiographs and potted specimens which are also extremely helpful for studying in an off-campus setting.
Our professors also set up off campus student discussion forums so that we could ask questions about the lecture content. We also had student feedback sessions where professors would ask us about what went well and what could be improved on for online learning so that they could better cater to our learning needs.
We were also able to participate in discussions and team projects with on campus students through zoom meetings, WhatsApp and email which helped us to feel more included in on campus activities.
Our professors and student success advisors always checked up on us to make sure that we were doing alright. They are also very approachable, friendly and helpful and hence, I never faced any problems or difficulties learning online.

Nethra posing next to the university entrance – this is the school that she wanted to start her Veterinary journey and make a difference to the animals in the near future.
Any advice for students who are keen to study abroad?
1. Never give up on your dreams and keep trying: I transferred into the vet programme after completing a year of animal health and animal science at Murdoch University. Hence, always stay passionate, determined and resilient as there is more than one way to reach the goal
2. Enjoy the experience: I have only been on campus for a month but I truly enjoyed every moment of it. During orientation week, I attended an excursion trip to Caversham wildlife park where I got to feed kangaroos and native fauna and got my picture taken with a koala and wombat. I also love market day held once a week on campus where there are loads of stalls selling delicious treats, handmade items and more. I also enrolled into several vet interest groups and although I could not attend any of the amazing face to face workshops, I was still able to go for online talks on surgical practice which was very cool.
3. Relax and take breaks: There is lots to study in terms of content in the vet programme and regular tests and assignments to ensure that we stay on top of the material. Hence, it is super important to de-stress and have fun. Watching a comedy film is my way of chilling before getting back to the books again.
How did theRightU supported you for this journey? Let us know what we did well so that we can help students like you to fulfil their dreams!
Life changing would be the only way to describe my experience with theRightU. From the step-by-step guidance on university admission procedures to support offered by friendly education agents, I never felt confused or anxious about course enrolment or studying abroad.
An extremely big thank you to Mr Brian, my education agent for all the help, guidance and support. Mr Brian advised me about the different pathways available for transfer into vet science at Murdoch university and helped me enrol into the animal health and science programme. He always kept in contact with me and enquired about my progress at university and constantly encouraged and motivated me to keep working hard to transfer into vet. I couldn't have done it without his support. Thank you once again Mr Brian!