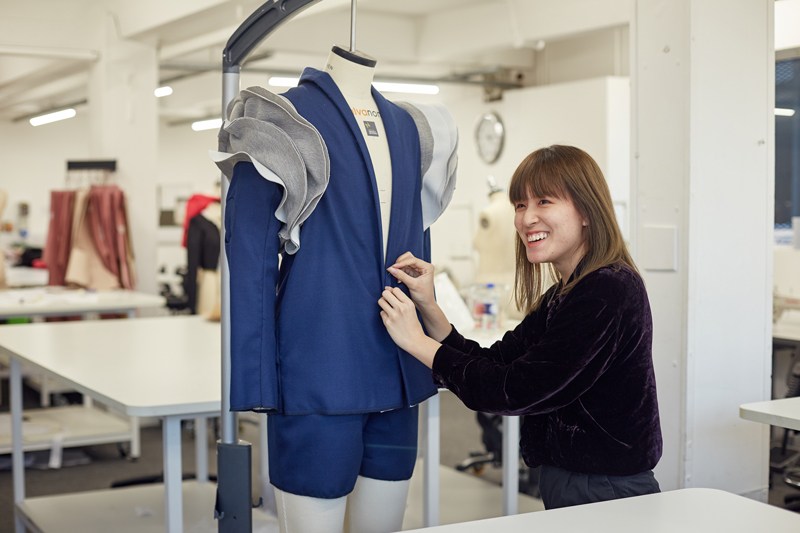 Why did you choose to study at NUA?
I attended an education fair where I discovered numerous universities. I spoke to their representatives about their fashion programmes, including admission requirements (interviews and portfolio), the technical support provided on the course, and how students were assessed. Amanda from NUA was a lovely representative who explained everything to me in detail. I felt that if the representative of the University was this helpful, it was most likely that the staff members at NUA would help me in my coursework. During my Skype interview, Sue Chowles, BA (Hons) Fashion Course Leader, took time to understand the work I submitted in my portfolio. She then clarified points which had given me some doubts about the course. The thing that stood out the most was that technical support is provided throughout the studio's opening hours. This cemented my decision to study at NUA.
Did you consider studying in London and what were your thoughts about studying in Norwich?
I did consider studying in London, but Norwich seemed like a nice town with its own unique points. I felt studying here would also expand my view on the fashion industry and to get a different experience from what I'd have in London.
What has been the most surprising thing about studying at NUA?
Not only are the technical staff and tutors helpful in pushing my designs and research further, my course mates are helpful and friendly as well. I've asked my classmates and senior students numerous questions regarding my design development, and every single time, they have not hesitated to answer my questions. I've had no problems making friends with them as well.
What do you like the most about your course?
I like having the opportunity to explore varying techniques in fashion design and construction. The tutors push us to develop our designs by recommending research resources and the technical support staff guide us through experimenting with the techniques we discover. After that, we can incorporate these new ideas and techniques into our designs ourselves.
NUA doesn't have a lot of international students – what has been your experience as one of the few non-EU students in Fashion?
I see the different styles of European students and non-EU students. In a tropical country like Singapore, garments tend to be simpler with minimal detailing because of the climate. Garments with longer sleeves and more details would be seen as less wearable in Singapore where no one wants to sweat in the tropical heat. However, garments designed by European students tend to be longer and have much more detailing, in part because the weather here is colder. The silhouettes of the garments tend to be bigger too, and the fabrics used for the garments are thicker.
Describe Norwich and what you like about the city.
Norwich has a huge art scene. I've seen numerous art exhibitions being promoted, as well as various vintage fairs. It is safe and everything is within walking/cycling distance. I really like the fact that people in Norwich are able to be free and express their quirky style without feeling that they are judged.
What advice do you have for someone from Singapore considering a degree in the UK?
Be ready to experience a whole new culture. You'll definitely need to learn how to cook in the UK!