A picture of her Ski Trip to Fort William and Glencoe Mountain in Scotland

Name: Su-Anne Ng
Institution: University of Sunderland, UK
Course of study: BSc (Hons) Cosmetic Science

Our journey with Su-Anne started when she signed up for one of theRightU's education fairs in early 2018. We assisted Su-Anne with her study plans in the UK, and today, she is a 3rd year undergraduate student at the University of Sunderland undertaking the BSc (Hons) in Cosmetic Science. We had a chat with her online and asked about her experiences in the UK, and how they have shaped her thoughts about learning.
---
What made you want to study Cosmetic Science, and why Sunderland?
My interest in Cosmetic Science started when seeing heavily advertised cosmetics and skincare on television and social media platforms. They made me wonder what actually went into these products we apply on our face or body almost every day. Going through Singapore Polytechnic's Diploma in Perfumery and Cosmetic Science course, I learned everything from fragrances, haircare, skincare, colour cosmetics and the sciences behind them. With that, I was privileged to get an internship with Coty Inc. at their Singapore R&D Innovation Centre in 2018.
After that, I wanted to further my studies and pursue a degree overseas as there was no degree programme available in local universities. I came across the University of Sunderland's BSc (Hons) Cosmetic Science course via my SP lecturer, that said this is a new and upcoming course. Also, with my Diploma background, I managed to obtain a guaranteed direct entry to Year 2, allowing me to finish my BSc (Hons) in two years instead of three (without optional industrial placement year). If I were to study in a local university, in a general chemistry/biology course, it would take me a total of four years to complete the degree programme and I would then enter the job market later. With the University of Sunderland's BSc (Hons) Cosmetic Science course, I can graduate within 2 years of study and have a higher chance to enter the UK job market, where the industry is larger and where more R&D companies are situated. The personal care industry in Singapore is rather small and hence studying in Sunderland is a stepping stone for me to gain work experience outside of Singapore, and learn from new people. It has always been a dream of mine to go out of Singapore and experience living abroad. Therefore, studying overseas will give me this great opportunity to do so.
To be honest, I was unsure of applying to an overseas university due to the expenses, being away from home and I didn't even know where to start applying. However, Brian from theRightU helped me so much along the way and made sure the application processes (university, VISA and IHS) went smoothly. He ensured that I had all the documents required and updated me on each application status. Without Brian's help, I honestly wouldn't be able to study in the UK.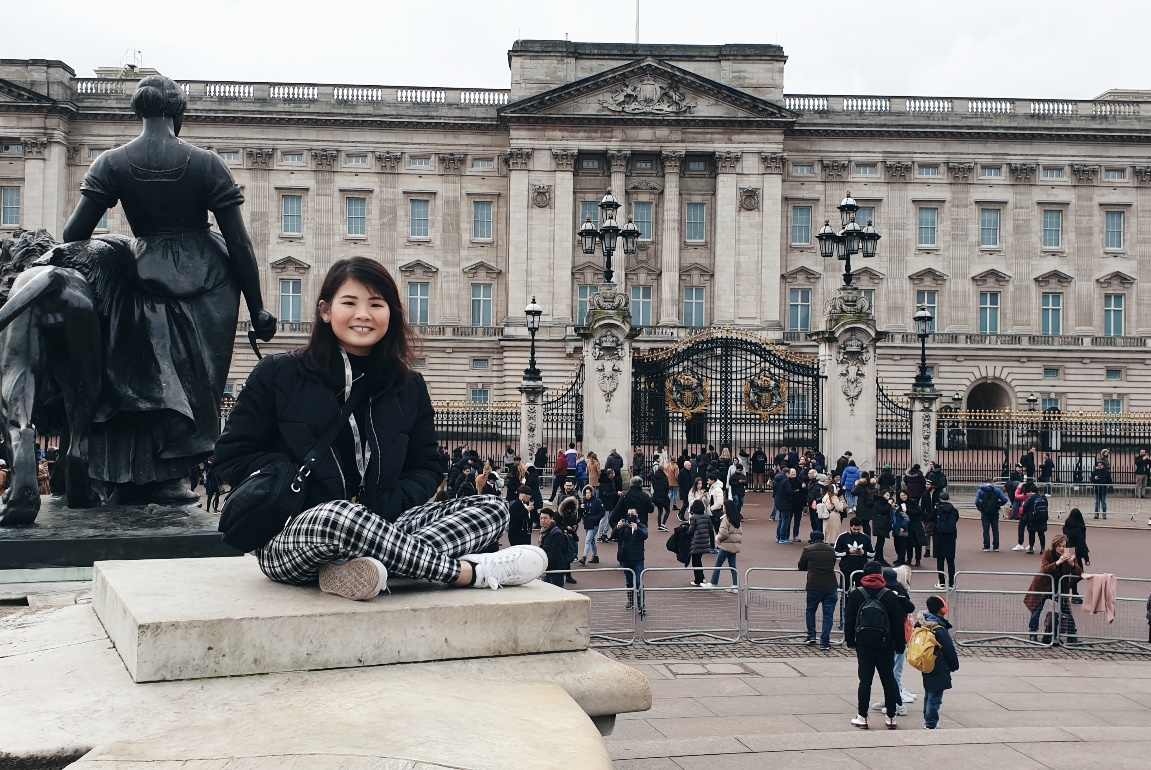 A picture of Su-Anne posing outside the Buckingham palace in her weekend trip to London
What is the experience of living and studying in the UK? How did it impact you?
Living in the UK is definitely very different compared to Singapore. I realised that I took many things for granted when I was in Singapore, such as safety, convenience and accessibility. Malls, shops, buses and trains stop operating at around 6-8pm in certain areas and it was really a culture shock to me when I first arrived. But the UK has many beautiful scenic places to go to and I would definitely recommend exploring outside during school breaks or weekends.
In terms of studies, my course's curriculum is definitely not as intense as some local universities'. The projects and assignments given are manageable and with reasonable deadlines. Lecturers are helpful and come from all over the world which adds an interesting touch to lectures and seminars.
What is the most positive experience you had in Sunderland?
For my course, since it is such a niche area, some lectures are actually conducted by industry professionals! We've had lecturers from Unilever, CPL Aromas, Laleham, OREAN Personal Care, Delphic HSE and Lake Personal Care. These external lecturers share their knowledge with us and also gives us a better idea as to how it is really like in the industry, from R&D to manufacturing to regulatory and even toxicology. The university has good relations with these industry professionals and sometimes they hire from our course when we graduate, making it easier for us to secure a job.
Su-Anne's road trip to the National Trust's Brimham Rocks, biological Site of Special Scientific Interest and Geological Conservation Review site.
Any advice for students who are keen to study abroad?
​Learn how to cook some basic Singaporean dishes before going abroad! You never know when you'll get homesick and when you do, you'll thank your past self for learning them beforehand.
Be open-minded and adaptable. As a foreigner studying overseas, you never know what you will encounter in terms of cultural and lifestyle differences.
Just do it. If you're doubting whether to leave the comfort of your own home and Singapore, studying abroad allows you to gain independence and mature as a young adult. If you want that for yourself, step out of your comfort zone and experience something new. I definitely enjoyed myself studying abroad as it is really a once in a lifetime experience.