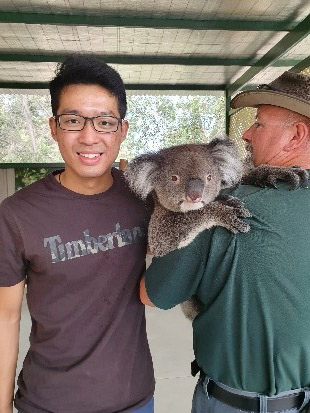 Yu Xun's close encounter with one of the iconic wildlife animals in Australia – the Koala bear.
Name: Leow Yu Xun
Institution: Murdoch University, Australia
Course of study: Bachelor of Science (Conservation and Wildlife Biology)

Yu Xun's journey into wildlife conservation started during his Polytechnic days where he studied the diploma in Veterinary Technology. His passion in this field led him to apply for the bachelor of science majoring in conservation and wildlife biology at Murdoch University. He started his program in Perth in early 2020, and returned back to Singapore to continue this program online due to Covid-19. We invited him for an interview to find out his learning journey and experiences in Australia.
---
What made you want to study conservation and wildlife biology at Murdoch University?
I have always believed in the idea of wildlife conservation and sustainable living. Although it is a niche field of study, I personally recognise the importance of coexisting well with our wildlife counterparts. I chose Murdoch University as it is located in Western Australia, where there is a high diversity of endemic Flora and Fauna. This means that we are in close proximity to natural habitats such as forest, shrublands, wetlands etc which enable us to conduct fieldtrip right at our backyard.
What is the experience of living and studying in Perth? How did it impact you?
I had a really fulfilling time in Perth. Staying in Murdoch Village (the campus accommodation), I was able to meet diverse group of people from different nationalities, including Australia, Singapore, Malaysia, Japan, Hong Kong, Saudi Arabia etc.
It definitely took a while to get used to the different setting as being away from my family and friends is relatively new to me. Nevertheless, studying overseas gave me the opportunity to make practical and independent decisions from day to day. I allocated skype sessions with my family weekly and I have dinner with my group of friends regularly. Both of which helped me settle in comfortably in Perth.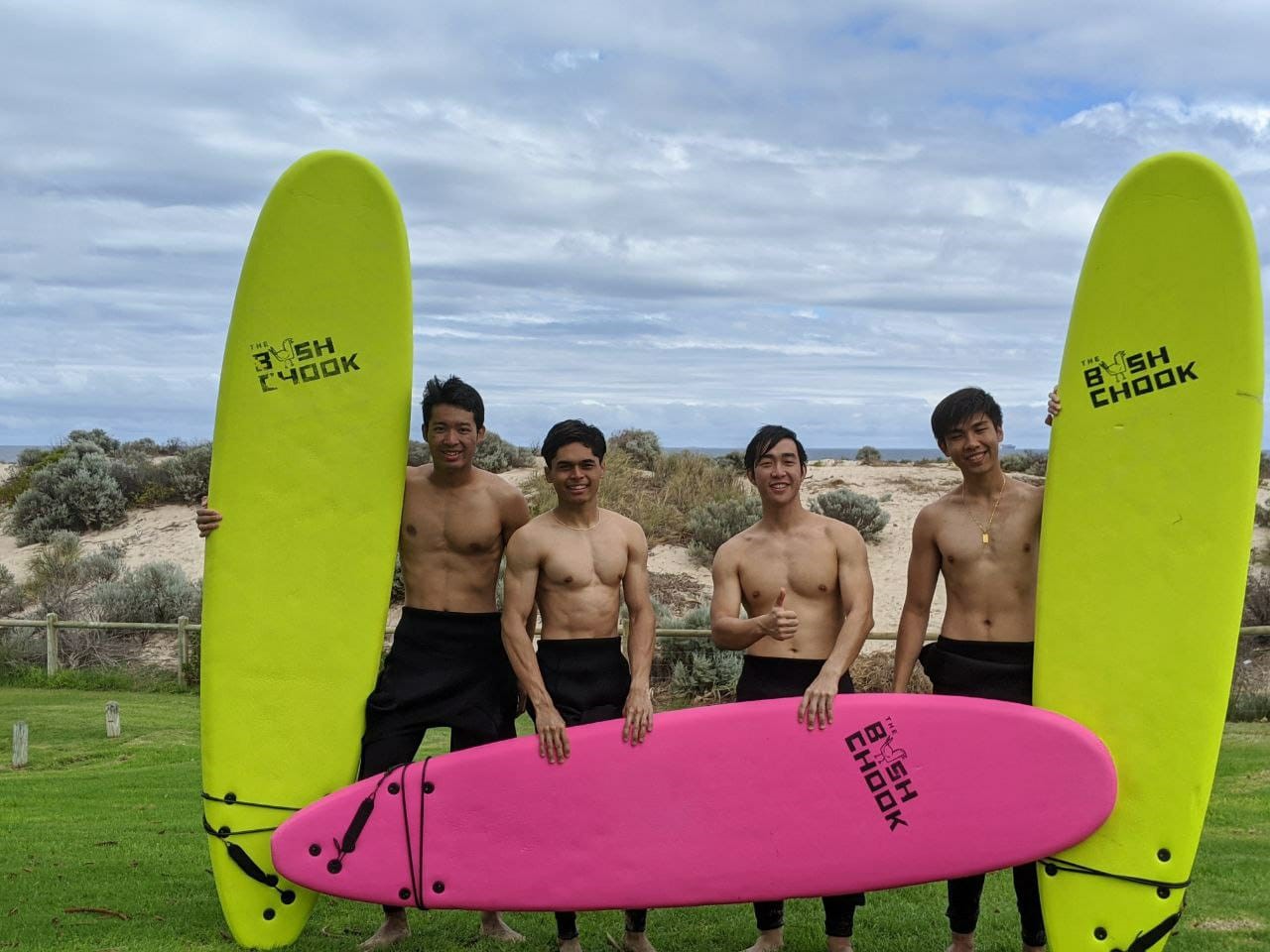 Yu Xun and his international friends taking a pose before starting their wake boarding session at Cottesloe beach.
How do you find studying online? Are you able to cope with the learning?
The dynamics of online studying definitely differ as not only are we missing out on the practical component, we are unable to fully experience the student life abroad. Furthermore, clarifying doubts will be more challenging without the luxury of face-to-face lessons. Despite the inconvenience of online learning, the professors and lecturers took the effort to conduct several tutorial sessions online consistently in order to assist students (especially travel restricted students) with assignments and test. They were also really understanding with the limitations we faced when attempting our assignments online. All of which allowed us to keep up with the curriculum while studying online.
Whether if remote learning or face to face lessons, studying requires a great deal of discipline and during these unprecedented times, we should try to make the best of what is available and stay committed in our study progress.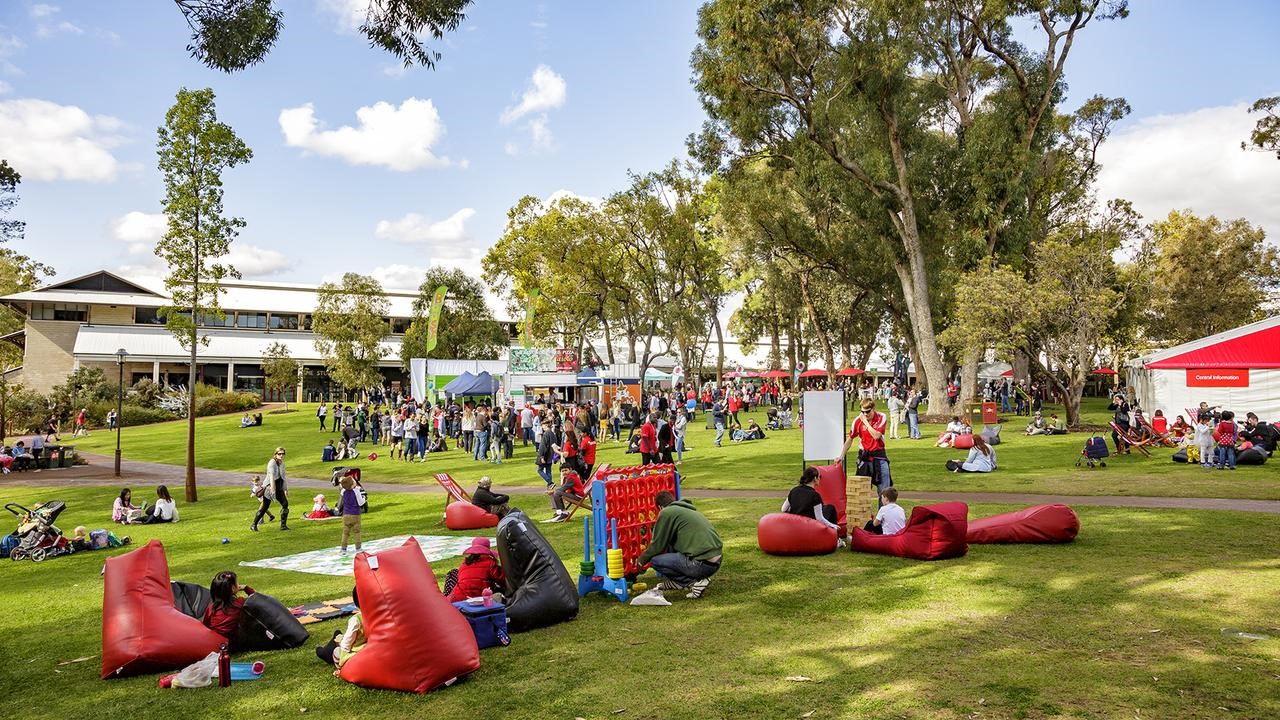 The Murdoch University Bush Court where students will hang around during their break time to interact with their school mates, read a book or take a nap.
Any advice for students who are keen to study abroad?
Don't be afraid to ask around about studying overseas and take every advice with a pinch of salt as everyone's experience differ. Do attend the overseas university fair as it is a really good platform to engage with the variety of overseas universities and find out more about your interest or programs that best fits you.
Be open minded and do not hesitate to make friends there as from my experience, not only can we look out for one another, the friendship forged brings about more excitement in your student life there.
Whether is it doing well in studies or making meaningful connections, list down priorities and goals to accomplish during your time studying abroad as it really serves as a good motivation and guide when making decisions.
How did theRightU supported you for this journey?
theRightU provided me with up to date, unbiased and comprehensive information about the available programs offered by different universities. Brian guided me with my decision-making process by patiently talking about my career goals, explaining the pros and cons of different career pathways, before narrowing down to the compatible programs offered by various universities. Also, the administrative work of theRightU was really efficient which helped with the smooth application process. I like the fact that they do not just tell you what to study, but provide you with the correct advice about the strengths of the programs/ school which will aid you for your future.