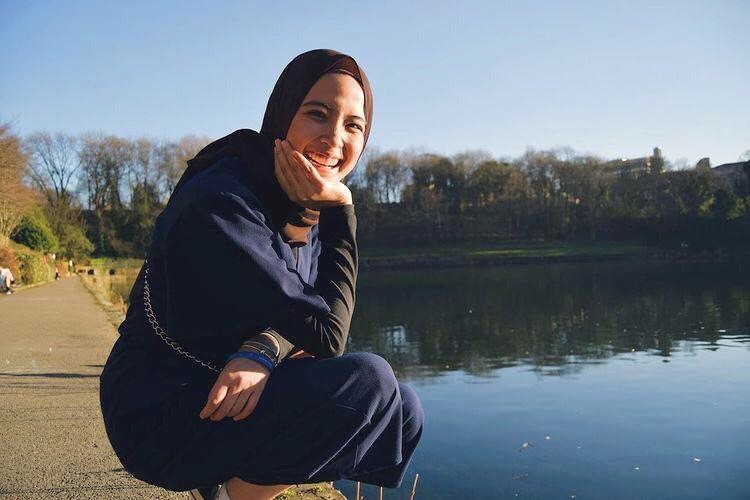 Adriana taking a pose next to the pond in one of the parks located near the university of Sheffield.

Name: Nur Adriana Bte Zainal Abidin
Institution: The University of Sheffield, UK
Course of study: BA (Hons) Journalism studies

Adriana graduated from the University of Sheffield (UK) with a BA (Hons) in Journalism studies. Over at Sheffield, she was involved in various projects and also wrote an article which was featured in the Guardian. She was also given the PPA (Professional Publishers Association) student of the year award. Find out her learning experience in the UK and how this had broadened her horizons – and make her who she is today.
---
What is the most positive experience you had at the University of Sheffield?
My most positive experience I had in university were the memories and the good friends I made. I believe that the friends I made are now friends for life and it's such a nice feeling to know that. We went to London together, to York, to Liverpool! We had such a good time enjoying each other's company. We had sleepovers, late night dinners and karaoke in the middle of the night. But apart from all that, when I was homesick and crying in my room, my friends were there. When I was too sick to get out of bed, they came to me with food prepared with love. And through the good days and bad days, my friends in Sheffield were there for me and that itself makes me so emotional.
Were there any interesting projects that you were involved in the university and how did it go?
The project that will always have a huge impact on me for the rest of my life is my final year project at the University! I did an investigative piece on forced marriages in the UK and was awarded the highest mark that was ever given to a student in their final year project. Adding on to that, I was also given the highly commended for PPA (Professional Publishers Association) Student of The Year. It was all very exciting and new to me especially when half of my final year project had to be done remotely due to the pandemic.
However, my amazing and dedicated lecturers were there for me throughout the journey. Despite the time difference between UK and Singapore, they were always there to drop me a text and ensure that everything will turn out well. I sent them drafts over and over again just to make sure that it was perfect. (My lecturers cried reading my piece! And I think that itself is something to celebrate). The University of Sheffield has always been a University that supports its students in an out of academic. For me, my journalism department has boosted my confidence in pursuing my dreams and have always believed in me when I doubted myself. I am what I am today, all thanks to the University of Sheffield and my journalism department who brought out another side of me that I didn't know existed! The journalism department and the University of Sheffield will always be a part of me!

This was the article written by Adriana on forced marriages (The hidden crime in Britain) in the UK and it was published in the Guardian, a British press company.
.
What is the experience of living and studying in the UK? How did it impact you?
I tell this to everyone I meet but my time in the UK and in Sheffield are so precious and valuable to me! I'll gladly do it over and over again. I have always dreamed of studying in the UK and when the opportunity came, I grabbed it! I grabbed it so tight and told myself to make the most out of it and I'm so glad I did! The moment I stepped into Sheffield, it just felt like. It felt just like home and will always be home to me for the rest of my life. MY university experience was FANTASTIC. I made friends from all over the world; some of which I am still in touch with!
My best friend is from Liverpool so we do our weekly facetime call after a long week and that is really special to me. I, too have international friends, which helped when we were all feeling homesick. We would go out for ice cream, have loads of fun and laughed it off! When you study abroad, it opens up a whole world of opportunities for you! I was heavily involved with the student union, doing volunteering work and helping the university with its marketing efforts. I was the cover face for the brochures and posters, which was fun! Due to my active involvement in University, I was then scouted by a design company in Sheffield to do part time work with them which was so much fun! It was an all-men team and they treated me just like their daughter!
They dropped me off home, pack me lunch and brought me out to client meetings which was so much fun. I can go on and on but my whole experience at the UK and in Sheffield has shaped me so much. When I doubted myself, people in the UK believed in me. I am so much confident, vocal, articulate and independent, all thanks to my university experience. It was great, fantastic, sweet and something that I will always carry with me. (Till now, I think about Sheffield from time to time and I don't think I'll ever forget it)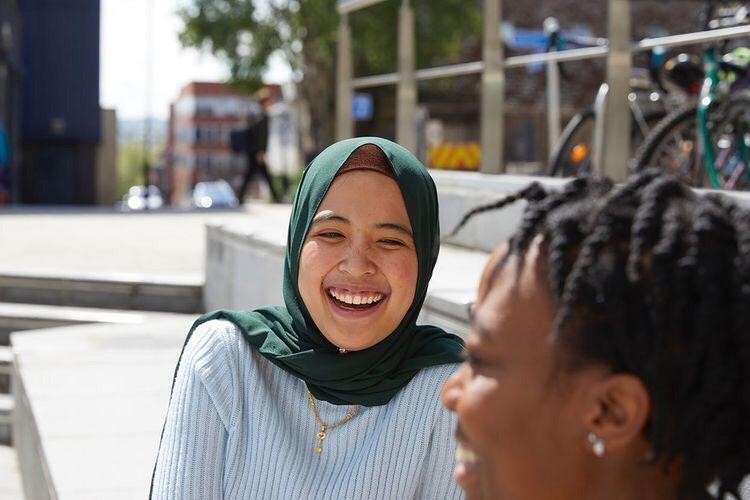 Adriana having a cheerful discussion with her international friends during one of the lecture break time.
Any advice for students who are keen to study abroad?
1. Step out from your comfort zone! Make friends with non-Singaporeans, be friends with everyone you meet! Connection is key. Join in society, take part in internships, and talk to people! Explore the city you are in and explore the UK! There is so much to see. Grab every opportunity that is presented to you and do your best
2. Remember your focus. Set your intentions right, remember why you are there! It's not all fun and games. When it's time to study, get your head down and work hard and when it's time to play, play like there is no tomorrow. But at the end of the day, know why you are abroad for and work hard to achieve those dreams
3. Keep in touch with your family. Being abroad does not mean forgetting the people you love back home. Keep in touch with your family and friends, they will help to keep you grounded. When I was studying in the UK, I called my family every day and my friends over the weekend. It's always nice to stay in touch with people back home as it helps to shake off the homesickness and also, who doesn't like spending time with their loved ones?