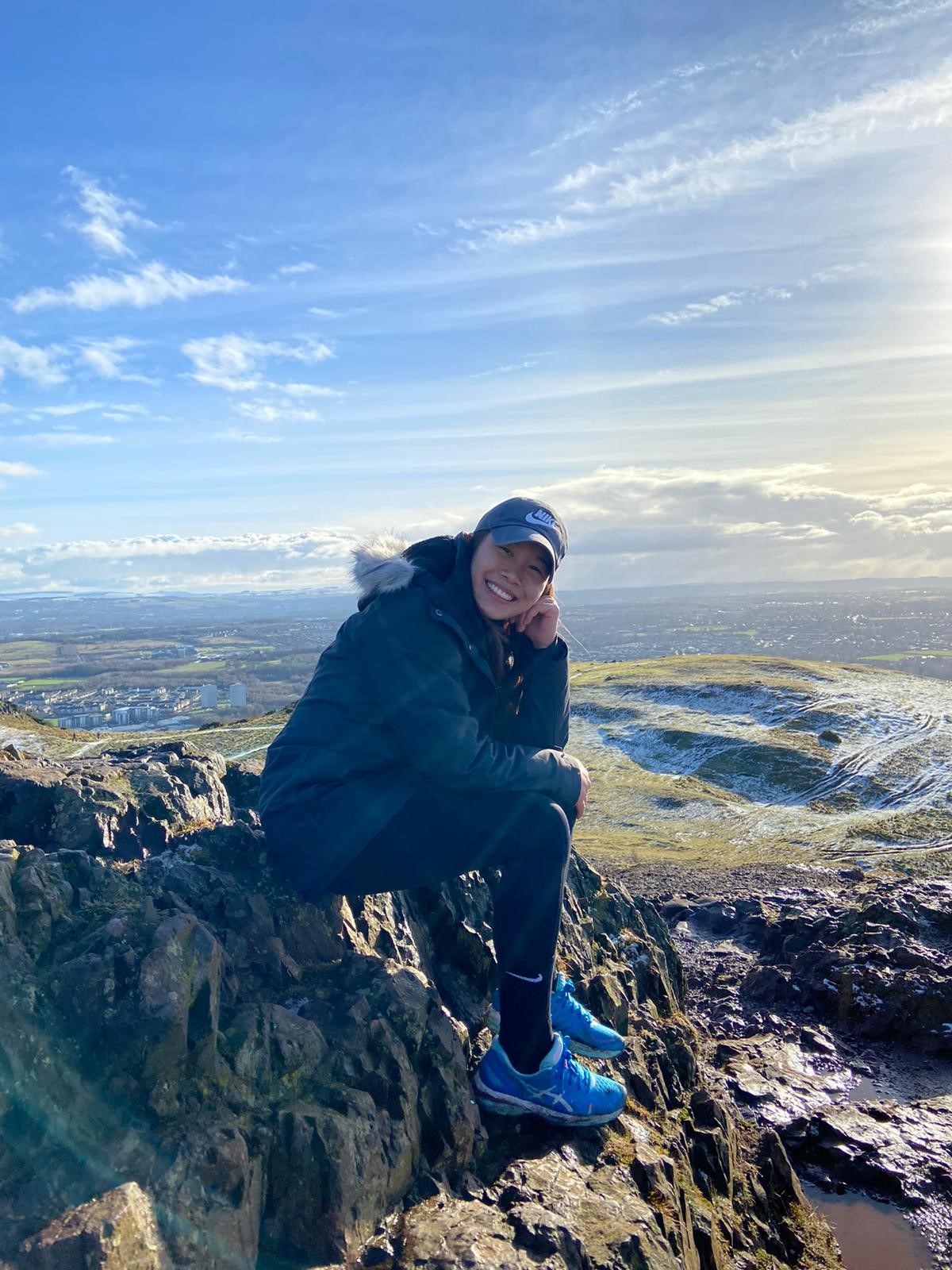 A picture of Andreana at Arthur's seat, one of the popular hill tops in Edinburgh

Name: Andreana Jaslyn Tang
Institution: The University of Edinburgh, UK
Course of study: Bachelor of Veterinary Medicine and Surgery

Andreana is currently undertaking the Bachelor of Veterinary Medicine and Surgery at the University of Edinburgh. We had an interview with her to find out her personal experience on studying overseas and how this has helped her to become a more independent person and have the freedom to maximise her potential.
---
What is the experience of living and studying in Edinburgh? How did it impact you?
Living and studying overseas has moulded me into an even more independent individual than I already was which I did not think was possible. Edinburgh, fortunately was and is a very welcoming city, the people here are relatively friendly and honestly, the environment is so much more conducive for me mentally. Even though I was abroad and studying, I feel more refreshed being away from the accelerated lifestyle in Singapore. This experience has really made me less highly strung as a person and I have learned to keep things in control better to handle unexpected situations that may have caused me high stress back in Singapore. Once you realise how life can be overseas, you start to live it differently even when you're back in Singapore.
What are things you like about living in Edinburgh, how do you find the culture there?
I think the thing I like most is the fact that I am free to do anything I want (responsibly of course), in a sense where I can eat at any time I want or that I can decide to go climb Arthur's Seat when I wake up one day. The independent living is something I like because I am one person that likes being alone and allowed to do things in my own stride. Edinburgh is perfect for that as well because the entire town is so scenic, especially on good days, when you feel like being alone, taking a walk around the town and in the park is the perfect way to reset your socialization meter. Everything here is very 'do it yourself' so I feel it's the perfect place to do 'growing up' because you really realise how to do a lot of things on your own here.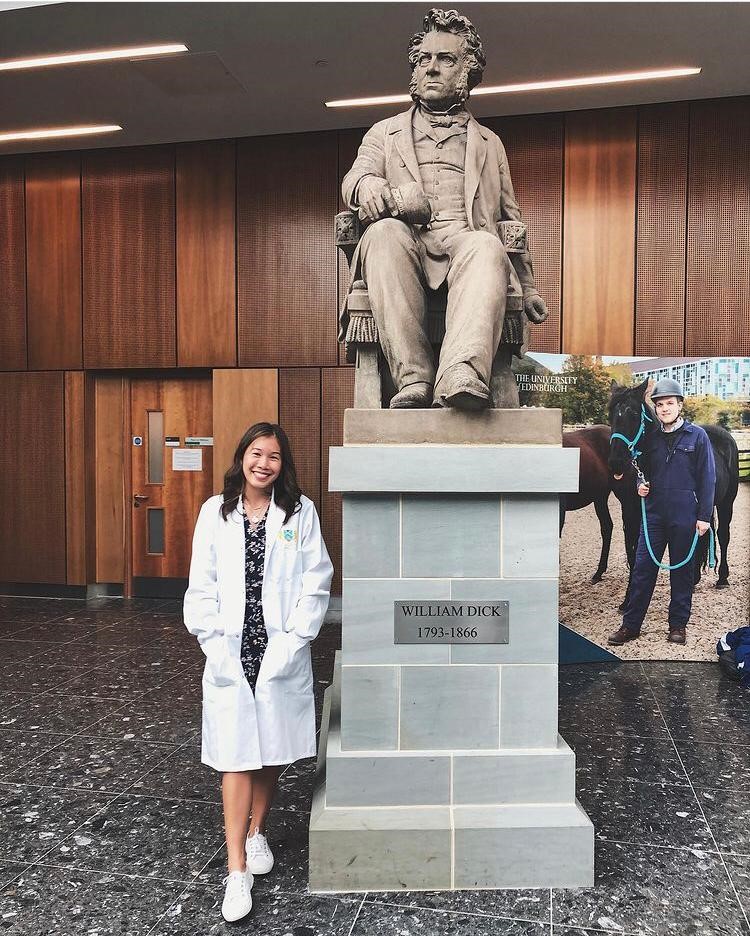 Andreana taking a pose next to the statue of William Dick, a Scottish veterinarian and founder of the Dick Vet School in Edinburgh, the first veterinary college in Scotland. He is responsible for major advances in the field of veterinary science and the profession as a whole.
How did theRightU support your journey? Let us know what we did well to help students fulfil their journey.
TheRightU has been with me throughout the entire journey from discussing what universities I could apply to and how I am able to apply to it with what documents I need to prepare. Everything is thought of by the agency and this allows you to focus on getting into the university, rather than worrying about all the other nitty gritty details about application. This is something I appreciated very much. Furthermore, my agent, Michelle, has become like a friend to me and has actually been keeping tabs on me when I'm overseas or back in Singapore because of the pandemic, all the way to the point where I had to fly back to Edinburgh. I love the partnership which became a friendship, because that made it all the easier to communicate with her.
Any advice for students who are keen to study overseas?
The top and best advice I can give you is that if you can do it, do it. Don't hesitate because you'll be missing out on opportunities you never knew you had. Studying abroad has really helped me to grow as a person and I feel you will do better in school as well as in the working industry when you have graduated because the mindset is totally different.
Chase it and fight for the course you want to make sure that your journey to the west (laughs) is one that is worth it and you will be hyper motivated to do even better here, whilst having a balanced lifestyle because Edinburgh (as well as other parts of the UK, I am sure) is all about mental health!
Be adventurous and take everything in your stride calmly because there is always a way to get out of something – once you're alone, you will realise how capable you are as an individual