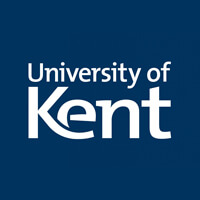 University of Kent
United Kingdom
The University of Kent is a public research university based in Kent, United Kingdom. It was founded in 1965 and is recognised as a plate glass university.

In 2014 the university was ranked 80th in the world by the Times Higher Education World University Rankings in Top 100 Universities Under 50 Years. Additionally, Times Higher Education also ranked the university 20th in the United Kingdom in 2015 though aggregating multiple ranking results into a comprehensive table of ranking tables. It is among a group of institutions to consistently score 90% or above for overall satisfaction in the National Student Survey.
The main Canterbury campus covers 300 acres (1.2 km2) and is in an elevated position just over two miles (3 km) from the city centre. It currently has approximately 12,000 full-time and 6,200 part-time students and some 600 academic and research staff, and is the largest campus of the university. See below for a list of amenities near our campus.
In 2000 the University joined with other educational institutes to form the "Universities for Medway" initiative, aimed at increasing participation in higher education in the Medway Towns. The following year the University of Kent at Medway formally opened, initially based at Mid-Kent College.

The University of Kent and Medway Park Leisure Centre have gone into a multimillion-pound partnership to provide high quality leisure facilities for university students and the general public. Medway Park was re-opened in 2011 by Princess Anne for use as a training venue for the 2012 London Olympics, as well as a training venue for the Egyptian and Congo National teams. See below for a list of amenities near our campus.
Male to Female
Ratio
48 : 52
International
Students
29%
Area Studies
The Times, American Studies
Criminology
The Times, Criminology
Psychology
Times, Psychology
Linguistics
The Times, Linguistics
Business Studies
CUG, Marketing
Media & Communications
Guardian, Media and film studies
Social Work & Policy
QS, Social Policy & Administration
Performing Arts
CUG, Art & Design
Sociology
The Times, Sociology
Visual Arts
CUG, Art & Design
Archaeology
CUG, Archaeology
Architecture
The Times, Architecture
Mathematics
ARWU, Statistics
History
The Times, Classics and Ancient History
Politics
ARWU, Political Sciences
English & Literature
Guardian, English and creative writing
Philosophy
QS, Philosophy
Biological Science
CUG, Biological Sciences
British Council IELTS Prize
Up to $60000 for tuition
6 available
British Council IELTS Prize
Up to £40000 for tuition
6 available
British Chevening Scholarships
100% for tuition and living expenses
Limited quantity
UNESCO Fellowship Programmes
Up to 100% for tuition and living expenses
Limited quantity