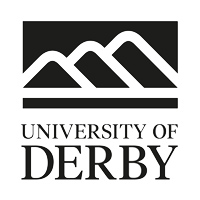 University of Derby
United Kingdom
Derby is an ambitious, modern university with three campuses in Derbyshire, central England. It is a much-loved second home to 1,700 international students from 100 countries. The compact city of Derby is an economic powerhouse with global brands such as Rolls-Royce, Toyota and Bombardier, as well as a thriving creative sector and around 90 incubation units.

Derby's courses focus on develop your academic knowledge, practical experience and employability skills such as communication and leadership. Its excellent teaching prepares you for a successful, fulfilling career. Derby is proud of its personal touch: small classes, a personal tutor and a friendly atmosphere. The majority of its classes have fewer than 30 students.

The University of Derby has been ranked in the Top 30 in The Guardian University Guide 2019, including Top 10 rankings for Hospitality, Event Management & Tourism as well as Business, Marketing & Management.
The majority of our courses are based in Derby. It's a bustling city about 30 minutes from Nottingham, an hour from Birmingham and less than two hours from London.

Derby's a culturally diverse city and it has venues for a great student night out whether you want music, food, cinema or theatre. See below for a list of amenities near our campus.
The hospitality, outdoor and some sport courses are based in Buxton. It's a beautiful and vibrant tourist spa town, surrounded by the Peak District National Park. Buxton's about an hour from Derby, Manchester and Sheffield. See below for a list of amenities near our campus.
Chesterfield is the largest town in Derbyshire and our campus there is dedicated to Nursing courses. It's about a 30 minute drive from Derby and is situated on the edge of the Peak District. See below for a list of amenities near our campus.
Male to Female
Ratio
44 : 56
Diagnostic Imaging
The Times, Radiography
Hospitality & Tourism
Guardian, Hospitality, event management and tourism
Business Studies
Guardian, Business, management and marketing
Nursing & Health Science
Guardian, Nursing & Midwifery
Visual Arts
Guardian, Art
Media & Communications
Guardian, Journalism, publishing and public relations
Material Science
CUG, Materials Technology
Education
Guardian, Education
Mechanical Engineering
Guardian, Engineering: mechanical
Area Studies
The Times, American Studies
English & Literature
The Times, Creative writing
Occupational Therapy
CUG, Occupational Therapy
Marine Science
Guardian, Earth and marine sciences
Geography
The Times, Geology
Surveying & Planning
CUG, Building
British Council IELTS Prize
Up to $60000 for tuition
6 available
British Council IELTS Prize
Up to £40000 for tuition
6 available
British Chevening Scholarships
100% for tuition and living expenses
Limited quantity
UNESCO Fellowship Programmes
Up to 100% for tuition and living expenses
Limited quantity