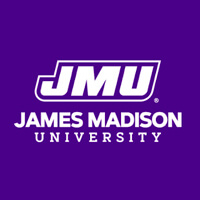 James Madison University
United States
Founded in 1908, James Madison University is a top-ranking US state university in Virginia offering excellent value for money on a beautiful campus with state-of-the-art facilities.

The university is ranked the #2 public university in the South by U.S.News & World Report, and in America's top 50 'Best Value' public universities by Princeton Review and is known for having a strong culture of community and civic engagement.

Subject Strengths: Business, Health Professions, Communication, and the Social Sciences.
James Madison University sits on 655 acres outside of Harrisonburg, VA. The grounds provide plenty of grassy, open space for students to hang out and enjoy the sun.

The campus is split into six separate areas – Bluestone, Hillside, Lake, and Village on the west side of Interstate 81 and Ridge and Skyline on the east side. People can cross the highway to access areas on either side via a bridge or tunnel. Generally speaking, the older center of campus is around Bluestone, where the main quad is located, and the campus was originally contained on the west side of the highway. See below for a list of amenities near our campus.
Male to Female
Ratio
41 : 59
Media & Communications
ARWU, Communication
Business Studies
ARWU, Management
Psychology
ARWU, Psychology
Education
ARWU, Education
British Council IELTS Prize
Up to $60000 for tuition
6 available