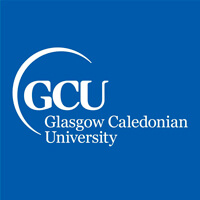 Glasgow Caledonian University
United Kingdom
With a history traceable to 1875, Glasgow Caledonian University in Scotland was formally instituted in 1993 and effectively became Glasgow's third university.

Glasgow Caledonian University is regularly ranked among the UK's top 10 modern universities, and is widely regarded as one of the UK's most dynamic and innovative universities.In 2013, the UK's Higher Education Statistics Agency ranked Caledonian as Scotland's second best university in terms of employability among graduates and 11th best in the UK.

Subject Strengths: Engineering and Built Environment; Health and Life Sciences as well as Business.
GCU is located in a modern purpose-built campus in the heart of Glasgow's city centre. The Saltire Centre is the hub of student life and the centerpiece of the University's Glasgow Campus. The £23m futuristic learning centre houses the University's entire library collection, the majority of student support services, over 1800 study spaces, a learning café, and a ground-floor mall.

There's never a shortage of things to do in Glasgow with pubs, restaurants, bars and clubs on every corner. Football plays a large part in Glasgow life, with rivals Rangers and Celtic dominating the Scottish Premier League and sporting conversation, and the city has at least one festival every month celebrating things from film to comedy. See below for a list of amenities near our campus.
Male to Female
Ratio
41 : 59
International
Students
18%
Social Work & Policy
Guardian, Social work
Optometry
CUG, Optometry, Ophthalmology & Orthoptics
Food Science
The Times, Food Science
Hospitality & Tourism
CUG, Hospitality, Leisure, Recreation & Tourism
Diagnostic Imaging
The Times, Radiography
Nursing & Health Science
CUG, Physiotherapy
Physiotherapy
CUG, Physiotherapy
Biological Science
Guardian, Anatomy and physiology
Civil Engineering
Guardian, Engineering: civil
Surveying & Planning
CUG, Town & Country Planning and Landscape Design
Media & Communications
CUG, Communication & Media Studies
British Council IELTS Prize
Up to $60000 for tuition
6 available
British Council IELTS Prize
Up to £40000 for tuition
6 available
British Chevening Scholarships
100% for tuition and living expenses
Limited quantity
UNESCO Fellowship Programmes
Up to 100% for tuition and living expenses
Limited quantity
Guaranteed £1,000 Scholarship
£1000 for tuition
Unlimited quantity
Merit-Based Country Scholarships
Up to £1000 for tuition
Unlimited quantity
International Scholarships
£2000 for tuition
Unlimited quantity
Early Payment Discount
5% for tuition
Unlimited quantity
International Alumni Fee Discount
20% for tuition
Unlimited quantity