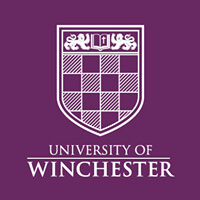 University of Winchester
United Kingdom
The University of Winchester is a public research university based in the city of Winchester, Hampshire, England. The university has origins tracing back to 1840.

Ranked 10th for teaching excellence in The Times and The Sunday Times 2016 Good University Guide and fourth for student satisfaction in England in the National Student Survey 2015, the university continues to further strengthen its position as a top provider of higher education.
Student life is centred on the King Alfred Campus within walking distance of the historic cathedral city of Winchester. In recent years, the King Alfred campus has undergone much change to enhance its facilities, including the new £6.5 million state of the art learning and teaching St Alphege building.

The King Alfred Campus also includes the University Centre (Student Union), the Chapel, a state-of-the-art gym and other sports facilities and Faculty buildings where the majority of lectures and seminars take place. Many undergraduate students live in the halls of residence on the King Alfred Campus, Queens Road and Burma Road (opened in 2013) or in the accommodation at nearby West Downs. See below for a list of amenities near our campus.
West Downs is a short walk away from the centre of the King Alfred Campus. It is the home of our self-catering accommodation, the West Downs Student Village, and the West Downs Centre, which is where the University's Winchester Business School is based. The centre also has social learning spaces with the latest IT equipment for students to use for individual and group work sessions.

The Link Gallery is also located on the campus. It is open to the general public and runs an exhibition programme throughout the year featuring established and emerging artists from the world of visual arts. The Research and Knowledge Exchange Centre is also based at West Downs. It is dedicated to research, enterprise and consultancy. It provides excellent resources for postgraduate students, particularly research students as it is the centre of research administration and support services. See below for a list of amenities near our campus.
Male to Female
Ratio
33 : 67
Area Studies
Guardian, American studies
Education
Guardian, Education
Philosophy
The Times, Philosophy
Religion
The Times, Theology and Religious Studies
British Council IELTS Prize
Up to $60000 for tuition
6 available
British Council IELTS Prize
Up to £40000 for tuition
6 available
Vice Chancellor's Scholarship (Singapore)
£2000 for tuition
7 available
International Student Scholarship
£1000 for tuition
Limited quantity
International Taught Masters Scholarship
£1000 for tuition
Limited quantity
British Chevening Scholarships
100% for tuition and living expenses
Limited quantity
UNESCO Fellowship Programmes
Up to 100% for tuition and living expenses
Limited quantity