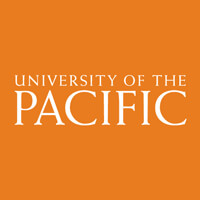 University of the Pacific
United States
University of the Pacific is located on a beautiful campus 1.5 hours from San Francisco. In addition to liberal arts, the University has schools of education, engineering and business, and graduate schools in dentistry, law, pharmacy and health sciences. The oldest chartered university in California, UOP was first in the state to admit women.

Pacific offers a superior, student-centered learning experience integrating liberal arts and professional education. It is ranked #108 National Universities (U.S. News & World Report), #3 Best-Value College in California (The Brookings Institution) and #12 Best-Value College in the U.S. (The Economist).
This is the main campus of University of the Pacific. It is home to three main residential halls: Grace Covell Hall, Southwest Hall, and the Quad Buildings. In 2008, the university opened a new University Center, at a cost of $38 million, to centralize all campus student-centered activities. The Don & Karen DeRosa University Center houses a new central dining hall, student cafe, pub, bookstore and conference centers, replacing the McCaffrey Center. It also built a new $20 million Biological Sciences Center in 2008 that provides advanced classroom and laboratory facilities for students studying the natural sciences and the health sciences. See below for a list of amenities near our campus.
Pacific's 13-acre Sacramento Campus houses graduate and professional programs in the Oak Park neighborhood, south of downtown. The campus is anchored by McGeorge School of Law, which is the only law school approved by the American Bar Association in Sacramento County. In 2015, Pacific began an expansion of its Sacramento Campus, including new graduate programs in analytics, business, education, health sciences, and public policy. See below for a list of amenities near our campus.
Male to Female
Ratio
48 : 52
British Council IELTS Prize
Up to $60000 for tuition
6 available
Academic Entry Scholarship
Up to $20000 for tuition
Limited quantity