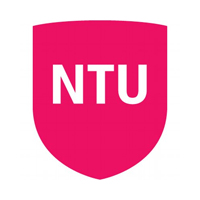 Nottingham Trent University
United Kingdom
Nottingham Trent University (NTU) is a public university in Nottingham, England. Its roots go back to 1843 with the establishment of the Nottingham Government School of Design which still exists within the university today. It is the 14th largest university in the UK with 27,920 students split over three different campuses.

The university has significant international recognition for its work in Art and Design (Fashion in particular), Communication, Business, Cultural and Media Studies and English Language and Literature, and for its Professions allied to Medicine, French and Law.

The university was awarded University of the Year by the Times Higher Education Awards 2017, and was ranked 16th in the UK by The Guardian University Guide 2019. In 2015, the university was awarded the Queen's Anniversary Prize for Higher and Further Education, the highest national honour for a UK University based on numerous research projects.
In the heart of Nottingham, our City Campus truly impresses, from its revamped buildings and facilities to an award-winning Students' Union. See below for a list of amenities near our campus.
Male to Female
Ratio
45 : 55
International
Students
18%
Agriculture & Forestry
The Times, Agriculture and Forestry
Surveying & Planning
Guardian, Building and town and country planning
Visual Arts
Guardian, Fashion and textiles
Food Science
CUG, Food Science
Accounting & Finance
Guardian, Accounting and finance
Area Studies
The Times, East and South Asian Studies
Film & Sound Technology
Guardian, Film production & photography
Performing Arts
Guardian, Film production & photography
Criminology
Guardian, Criminology
Product Design
CUG, Art & Design
Psychology
Guardian, Psychology
Media & Communications
Guardian, Journalism, publishing and public relations
Economics
Guardian, Economics
Philosophy
Guardian, Philosophy
Sports Science
The Times, Sport Science
Chemistry
The Times, Chemistry
Biological Science
Guardian, Biosciences
Business Studies
CUG, Marketing
Languages
The Times, Italian
Social Work & Policy
Guardian, Social work
British Council IELTS Prize
Up to $60000 for tuition
6 available
British Council IELTS Prize
Up to £40000 for tuition
6 available
British Chevening Scholarships
100% for tuition and living expenses
Limited quantity
UNESCO Fellowship Programmes
Up to 100% for tuition and living expenses
Limited quantity
NottinghamTrent@therightu.com