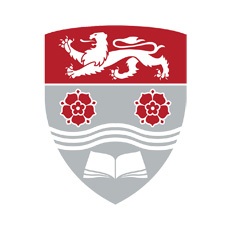 Lancaster University
United Kingdom
Lancaster was given its royal charter in 1964 and in under 50 years has become one of the best universities in the country. It is a collegiate university, and all students are members of one or other of the nine colleges. Academic staff are affiliated with a college and often have an active role. The attractive self-contained campus is set in lovely parkland and has undergone a major investment in recent years to provide award-winning facilities.

Lancaster has a thriving arts scene and is within easy reach of areas of outstanding natural beauty such as the Lake District and Bowland Forest. It's also handy for the big cities of Manchester and Liverpool.
The Lancaster University campus occupies a beautiful 360-acre parkland site at Bailrigg, just three miles from Lancaster City Centre. The campus is home to over 12,000 students and 2,500 employees.

The Bailrigg campus is brimming with culture and boasts its own theatre, art gallery and concert series. The Nuffield Theatre is one of the largest professional studio theatres in Europe. It hosts public performances of theatre, contemporary dance and live art from some of the best-known and respected companies from the UK and abroad. The Peter Scott Gallery is a small gem of a contemporary art gallery and home to the University's international art collection See below for a list of amenities near our campus.
Male to Female
Ratio
48 : 52
International
Students
35%
Criminology
The Times, Criminology
English & Literature
CUG, Creative Writing
Languages
The Times, German
Social Work & Policy
Guardian, Social work
Linguistics
The Times, Linguistics
Performing Arts
CUG, Art & Design
Visual Arts
CUG, Art & Design
Business Studies
CUG, Marketing
Environmental Science
ARWU, Environmental Science & Engineering
Logistics
ARWU, Transportation Science & Technology
Media & Communications
The Times, Communication and Media Studies
Biological Science
The Times, Biological Sciences
Education
Times, Education
Electrical Engineering
ARWU, Electrical & Electronic Engineering
Mathematics
Guardian, Mathematics
Religion
Guardian, Religious studies and theology
Geography
Guardian, Geography and environmental studies
History
The Times, History
Nursing & Health Science
The Times, Subjects allied to medicine
British Council IELTS Prize
Up to $60000 for tuition
6 available
British Council IELTS Prize
Up to £40000 for tuition
6 available
British Chevening Scholarships
100% for tuition and living expenses
Limited quantity
UNESCO Fellowship Programmes
Up to 100% for tuition and living expenses
Limited quantity